If there was ever a case where an artist was so strongly associated with one project, and my appreciation of the artist, then it is Tony Harris and his work on Starman. There were over 80 issues of the mid-1990s series about Jack Knight, the youngest son of Ted Knight (the original Starman), but Harris didn't even draw half of them (although he did stay on as cover artist for most of the series). But, when I think of the Jack Knight Starman, I only see the version drawn by Harris.
Harris had been working in the business since 1989 but it was Starman that made him a pencilling celebrity, and it's easy to see why – his beautiful and beautifully designed art was a refreshing style in the midst of the Image-influenced guns-and-shoulder-pads that was the norm at the time. He had a very heavy inking line, with little flicks coming off the lines that delineated the jaw that just looked cool. His Opal City was an art deco delight, and his drawings of tattoos on Jack made me want to get tattoos (although I never did).
Harris decided to spread his wings after the success of Starman. He was one of the original members of Gaijin Studio, but left to form his own studio – Jolly Roger Studio – which is still going strong today. He co-wrote (with Dan Jolley and Ray Snyder) various mini-series: Doctor Strange: The Flight of Bones, a 4-issue mini-series at Marvel Knights (with art on the first two issues by Harris); Obergeist (a 7-issue horror series at Top Cow); Lazarus 5, a 5-issue series at Vertigo, with art by Dusty Abell; and JSA: The Liberty Files (Harris on art duties), all around the turn of the millennium.
I feel a little bad for not having seen any of these books after admitting to how much I enjoyed his art but I've made up with it since 2004, when Ex Machina burst onto the scenes. Harris' art has evolved since his Starman days – the stylistic tics of the thick lines and flourishes have been replaced by a cleaner line, with a slightly larger approach to character features, but still maintaining the excellent sense of design in both the interior pages and on the excellent covers.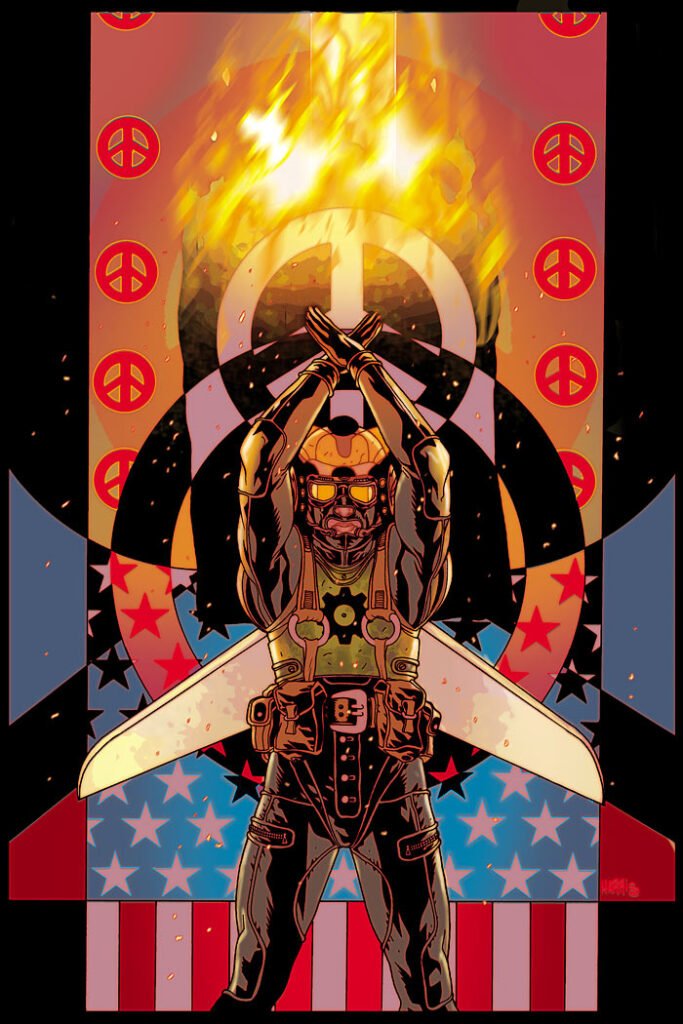 He has drawn all the issues of the ongoing Ex Machina series (there have been several specials drawn by other artists), and he's found time to work on other books: he provided art for Spider-Man: With Great Power for David Lapham at Marvel in 2008. There is also War Heroes by Mark Millar at Image, although there have only been two issues so far, the last in September of last year – I laud creator-owned projects, but it would nice to have them come out on some sort of regular schedule. Still, his art will be appreciated when it comes out, as can be seen by the many covers he has provided for various different books.
Tony Harris art on the Comic Art Community [LINK]
For more art, the full listing of Tony Harris work at the Comic Book Database [LINK] and some more art at the Comic Book Vine [LINK].
Save