I first saw Terry Dodson's art on two early Warren Ellis mini-series for Marvel – Storm and Pryde and Wisdom. His soft, curvy and beautiful characters have an instant appeal, and he can also tell a story. His art has a similarity to Adam Hughes – the gorgeous female characters are a hallmark – but there is more of the traditional superhero comic book art to Dodson's work. He does draw beautiful women but he also draws beautiful men, svelte and muscular in tight-fitting spandex; his work is detailed – he draws proper backgrounds as well as the main focus of the images – but without losing focus or clarity. It's dynamic, exciting and a visual treat, with the aid of his wife, Rachel, on inks to provide excellent superhero art.
His career has been a steady progression – after early work on Mantra at Malibu and Ghost and a Star Wars mini-series at Dark Horse, there was the Marvel work with Ellis, followed by a long stint on Generation X. He then hopped over to DC to illustrate Harley Quinn (written by Karl Kesel) for a year. He returned to Marvel to draw the ill-fated Spider-Man/Black Cat mini-series written by Kevin Smith – started in 2002, it went on hiatus until 2005 when Smith got round to actually finishing writing the book; it's a good thing that Dodson's art, so perfect for drawing Black Cat, was worth the wait (even if the story wasn't).
While waiting for Smith, Dodson drew the five-issue mini-series Trouble – written by Mark Millar – which was supposed to be aimed at teenage audiences but photographs of young girls in bikinis on the cover might have got a different audience … He maintained his connection with Millar by drawing his year-long Marvel Knights: Spider-Man – Dodson drew a great Spider-Man, and he got to draw a large proportion of his villains as well.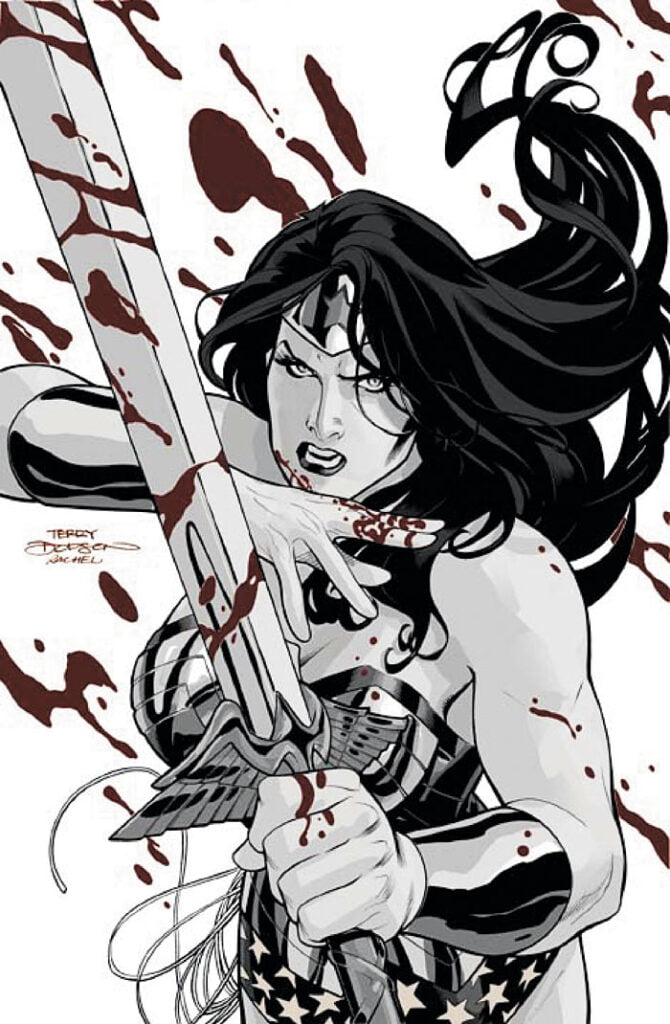 Apart from Adam Hughes, there was no other choice for the recent relaunch of Wonder Woman – Dodson drew a beautiful but powerful Wonder Woman. This is the important distinction – his women are beautiful and sexy but it's not cheesecake or pure titillation; it is his style but it also serves the story (as I mentioned in my review [LINK]). Currently, Dodson is back at Marvel on an exclusive contract, tag-teaming on The Uncanny X-Men, making up for the Greg Land art on the other stories by showing how to draw larger-than-life characters in dynamic mutant action. As an X-Men fan of old, it's a delight to see his art on Marvel's muties.
For more Terry Dodson art, you can see a lot of it at the Comic Art Community gallery [LINK]. CBR has a lot of previews of interior art by Dodson [LINK]. He doesn't have his own site, but there is a group dedicated to appreciating his art [LINK] and you can see a list of his comic book work at the Comic Book Database [LINK].