This is the second instalment in what I hope will be a regular feature where I highlight some of the artists I like. There is no preference to the order – just what I feel like at the time – and I'll post some art and try to talk about why I like the art. I could go through my old comics and scan images to assist my discussion, but then I'd never get round to posting anything …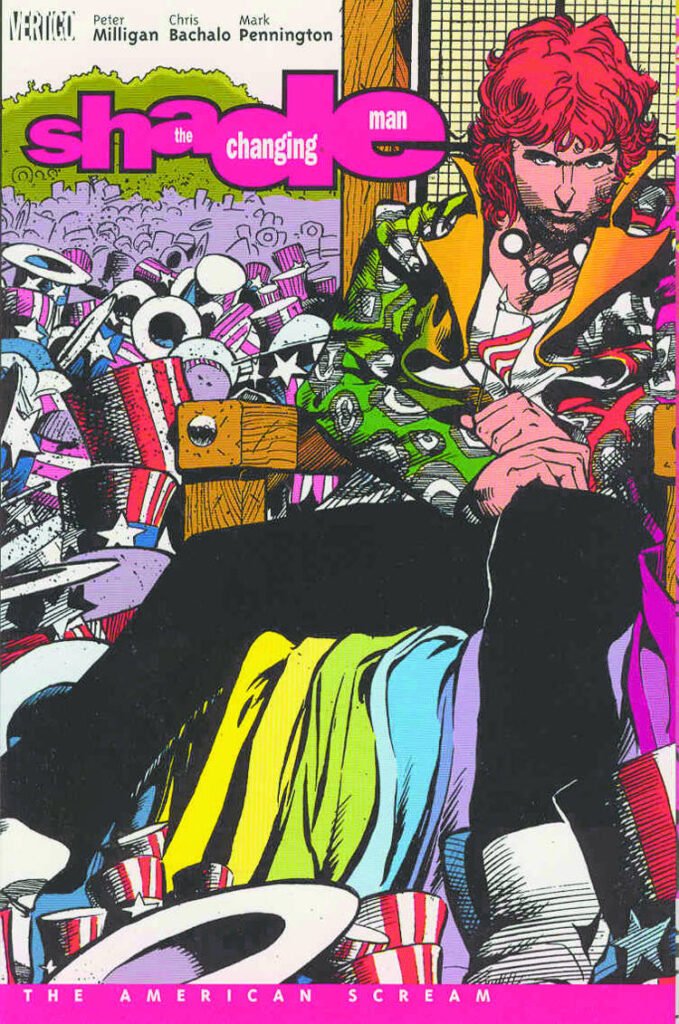 I first saw Chris Bachalo's art in the pages of Shade, The Changing Man, the updating of an old Steve Ditko character by Peter Milligan at what would become the Vertigo imprint. Bachalo had a clean and cartoony style – I loved the lines he drew on noses for some reason – which was very different to the majority of artists working in the mature DC comic book arena at the time. He also had a great design sense – the elaborate borders around the panels were a Bachalo trademark (until Mark Buckingham started using it on Fables).
Along with 50 issues on Shade, Bachalo hit the big time drawing Neil Gaiman's Death: The High Cost of Living, the hugely successful spin-off from The Sandman. He also went on to co-create Generation X at Marvel – a very strange choice but the next stage in his evolution. His art became funkier, if that's the correct term, a cartoony dynamism that was a fresh look for Marvel, and he had fun with the superhero comic and what could be done with the design and how the characters could look. I can't say I enjoyed the stories but the unusual art style was always enjoyable.
A variety of other work at Marvel, including a year on The Uncanny X-Men, saw Bachalo move into the creator-owned world with Steampunk, co-created with Joe Kelly and published at DC's Cliffhanger imprint. Bachalo's art evolved again, becoming even more rendered and densely packed with detail, but the decisions of how to tell the story were strange, making the book difficult to read. It was over-designed and overdrawn and made every page an eyestrain and patience tester. The script from Kelly seemed deliberately obtuse and hard to enjoy and care for any of the characters. This combination caused its early cancellation (it was supposed to last 25 issues, but only managed 12).
After this, Bachalo hasn't quite been as annoying with his art, although he has evolved as an artist, experimenting but remembering that he is still supposed to be telling a story (such as the New X-Men issues with Grant Morrison or the Ultimate War mini-series). His sense of design has gotten better – his covers are always eye-catching and play with the notion of what the comic book cover should be. His interior art is always interesting and his camera work is never less than unusual and engaging. I even read The Witching Hour for his art, even though I hated the story [link]. I'll always enjoy Bachalo's art and I hope he does something creator-owned again soon.